In Memoriam : Maria Enriquez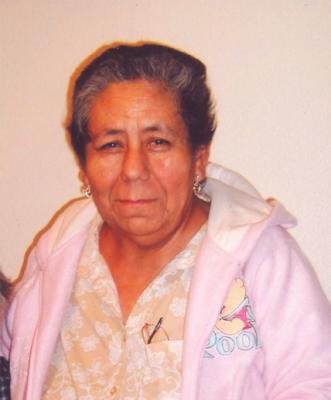 Maria Vargas Enriquez - age: 60
(March 17, 1949 to February 06, 2010 )
Resident of Farmersville, California

Visitation Information:
Visitation will be held on Thursday, February 11, 2010 from 2:00 to 6:00 PM followed by a Rosary at 6:00 PM at Evans Miller Guinn Exeter Chapel. Mass will be offered at Sacred Heart Caltholic Church on Friday, February 12, 2010 at 9:00 AM.

Obituary:
Maria Vargas Enriquez was born to Jose and Gudelia (Ramirez) Vargas in San Benito, TX on March 17, 1949. She married Porfirio Enriquez. She loved to cook and was known for her tamales and homemade tortillas. She had a special love for the casinos and playing the slots.
Maria is survived by her husband, Porfirio of Farmersville, her son Porfirio Enriquez Jr. of TN, daughters Ermalinda Lara and Maria S. Enriquez both of Farmersville. She is also survived by her grandchild Anna Enriquez, Bianca Lara, Monique Enriquez, Efrain Lara Jr., Greg Enriquez, Jazelle Dorame, Angel Dorame, Jasmine Enriquez, Sierra Enriquez, Jared Enriquez and Julia Lara. Maria also leaves her brothers Roberto Vargas of Exeter, Ignacio Vargas of Richmond and one sister Petra Ortiz of Bluetown TX.