In Memoriam : Jacqueline King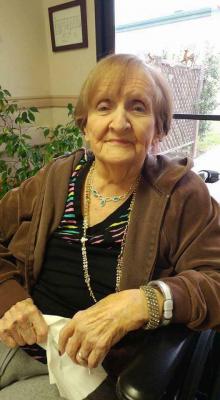 Jacqueline Kathleen King - age: 89
(August 21, 1927 to April 25, 2017 )
Resident of Farmersville, California

Visitation Information:
Visitation will be held on Monday, May 1, 2017 at Evans Miller Guinn Chapel from 2:00 to 6:00 PM. Funeral Services will be held on Tuesday, May 2, 2017 at 12:00 pm at the chapel. Burial will follow at the Exeter District Cemetery. A Celebration of Life will be held at Eastside Tabernacle, located at 969 E. Elm St. in Farmersville from 4 pm-8pm.

Obituary:
Jacqueline Kathleen King went home to be with the Lord and was reunited with her beloved husband, Alton William King on Tuesday, April 25, 2017. Jacqueline was 89 years and was born a fraternal twin on August 21, 1927 in Indianapolis, Indiana to Alva and Gertrude Ambrose. She had a brother, Donald Ambrose, twin infant siblings, Geraldine and Robert, and twin sister, Josephine Mundy, who preceded her.
On April 10, 1948, Jacqueline married Alton, the man of her dreams and together, they had four daughters: Delighte Flores of Farmersville, Ca.; Paula Partenheimer of Bakersfield, Ca.; and identical twins, Sandy Carrillo of Palmdale, Ca., and Tammy Stevens of Ozark, Arkansas. From this blessed union, Jacqueline is also survived by 14 grandchildren, 26 great-grandchildren, and 4 great-great grandchildren.
Jacqueline and Alton traveled back and forth from Indiana to California over the years, upon finally settling in Exeter, California and making it their permanent home. She was an office worker for many years and later, retired from waitressing.
After Alton was called home to Jesus, Jacqueline lived in Arkansas for ten years and later, returned to Farmersville, California. She was and will ALWAYS and FOREVER be loved by her family and by all who were blessed to have known her. Jacqueline will be SO deeply missed...until we see her again.