In Memoriam : Velma Goularte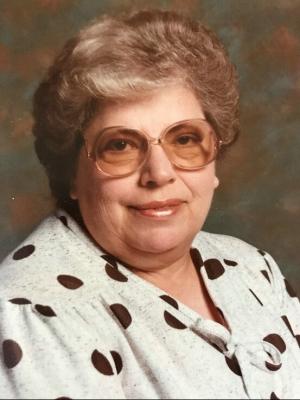 Velma M. Goularte - age: 86
(May 23, 1931 to June 21, 2017 )
Resident of Lindsay, Formally Of Exeter, California

Visitation Information:
Visitation will be held on Wednesday, June 28, 2017 from 2:00 to 6:00 pm followed by a Rosary at 6:00 pm. Mass will be celebrated at Sacred Heart Catholic Church in Exeter on Thursday, June 29, 2017 at 9:00 am. There will be a graveside service following the funeral and then a luncheon at Cassandra's on Pine in Exeter hosted by the family. The family wishes for all her friends and children she cared for to attend and celebrate her life with them.

Obituary:
Long time Exeter resident, Velma Goularte passed away early Wednesday morning, June 21, 2017 in Lindsay after a long illness. She is survived by her loving husband of 62 years Alvin Goularte, son Doug (Joni) Goularte of Visalia, son Mickey (Patty) Goularte of Lindsay and daughter Melanie (Charles) Kelley of Bakersfield. She and Al have five grandchildren: Abi Goularte of Sacramento, Jeremy and Jordon Goularte of Lindsay, Bryce Baker of Paso Robles and Tyson Baker of Bakersfield, On May 23rd, 1931 in Lanare, California, Manuel and Maria Leal welcomed their fifth child, Velma, into this world, and she became the darling baby of the family. Velma's siblings Manuel Leal Jr. of Riverdale, Irma Souza of Riverdale, Mary Costa of Fresno all preceded her in death, and she is survived by her sister, Vera Carriero of Riverdale, Ca. She attended school in Riverdale where she met and married Al at his brother's wedding; she was the bride's friend. They married on August 18, 1954, lived a short while in Berkeley, and later moved to Fresno. In 1963, Exeter became home to the young family. Velma was a housewife and mother before taking up child care where many young people passed through her home. Later she worked and retired from Exeter Public Schools where she worked at Lincoln School as a teacher's aide. They sold their home in Exeter in 2001, moving to Oak Tree Estates in Visalia where they made many friends before retiring to the Lindsay countryside where she passed away.





---




Mary Karr

- June 24, 2017 Contact this person


To Alvin Goularte and his family We are so sorry to hear of Velma's passing/ Our thoughts and prayers are with you and we are thinking of you at this time. We will try to make it to the services on Thursday. Love Mary and Ray Karr and family \\ v




---




Rosemarie Thomas

- June 30, 2017 Contact this person


Dear Al and Family I just received my Exeter Sun and saw that Velma had passed away. Please accept my thoughts and prayers for you and your family at this time. I know it is not easy when someone so close passes. I don't know if you know but my brother David passed away in March of this year; I know it is hard to keep in touch with people when key people pass but I know that Velma and my brother David are at peace. I have so many fond memories of our times on Portola Avenue. Watching your family grow and just knowing all of you were very special times and now that David is gone it is hard to share all of these fond memories. Christmas, 4th of July, Halloween, you were our postman which was always great and just everyday experiences. I just wanted to reach out to you to let you know how sorry I am and you will be in my daily prayers. Please give my regards to your children. Very best regards, Rosemarie (Grandi) Thomas




---