In Memoriam : Mickey Torres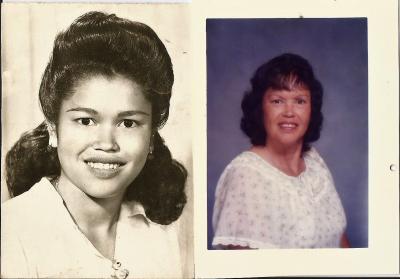 Mickey S. Torres - age: 88
(November 29, 1928 to August 25, 2017 )
Resident of Exeter, California

Visitation Information:
Funeral Mass will be Celebrated on Thursday, September 7, 2017 at 9:00 am at the Sacred Heart Catholic Church in Exeter. Burial will follow at the Exeter District Cemetery.

Obituary:
Mickey D. Sapien Torres 88 years old of Exeter, California, passed away and went to be with her Lord and Savior on Thursday, August 25, 2017. She was born on November 29, 1928 and raised in Farmersville
and Exeter, CA. Mickey attended schools in the Farmersville School District until the 7th Grade, she was married to her sweetheart and soul mate Frank B. Torres in October 1950 who worked for the Santa Fe Railroad in Fresno CA. She was happily married to her husband for 60 years. They lived in Albuquerque New Mexico, Fresno, Hanford and Exeter CA. She was a devoted mother to her sons, Rudy, who passed away as an infant in the early 1950's and Michael Tomas Torres who passed away on June 14, 2011 who was a Probation Officer in the Fresno and Hanford area.
Mickey is recognized as being a beloved and devoted wife, mother, sister as well as a compassionate and caring family member. Mickey enjoyed crocheting, cross-word puzzles, game shows, western movies, gambling, country and Mexican music, gardening as well as all her life time pets.
She is survived by her Brothers-in-Law; Joe Torres and his wife Nancy, Ralph Torres; Sister-in-Law; Dolores Torres Navarro and husband Omero; Daughter-in-Law; Lorraine Torres; Nieces; Rose Navarro Komar and husband Sebastian, Monica N. Luevano, Elisa N. Hernandez and husband Sal, Judy N. Sanchez and husband Larry, Marta N. Hatton and husband Duke, Estrella Trevino, Julia Trevino Carrillo, Dr. Rebecca R. Sapien-Melchor and husband Jose, Joevelyn Sapien-Jaramillo, Lucy Aceves, Terri Quijas and Nephews; Rosendo Navarro and wife Margaret, Robert E. Sapien and his wife Teri, Ricky Bravo and his wife Cynthia and numerous 2nd cousins and extended family.
Our beloved Mickey will be remembered for her courage in battling cancer, her resiliency and positive attitude in facing childhood challenges' and obstacles in her life, all the while wearing a big smile. She will always be remembered as courageous, devoted and caring.