In Memoriam : Jenny Gonzalez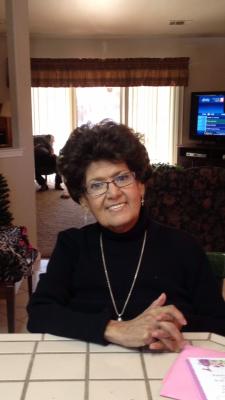 Jenny Rose Gonzalez - age: 77
(March 13, 1940 to October 01, 2017 )
Resident of Exeter, California

Visitation Information:
Visitation will be held on Tuesday, October 10, 2017 from 2:00 to 6:00 PM followed by a Rosary at 6:00 PM at Evans Miller Guinn Chapel. Mass will be said on Wednesday, October 11, 2017 at 10:00 AM at Sacred Heart Catholic Church in Exeter. Burial will be in the Exeter District Cemetery.

Obituary:
Our beautiful and loving mom, wife, Mama Rosa, and grandma passed away peacefully on October 1, 2017 at the age of 77 to be with our Heavenly Father and precious loved ones who went before her. Rosie was born on March 13, 1940 in Exeter, CA to Amelia and Teodoro Jaime. She was a life-long resident of Exeter and loved her beautiful town. Mom worked at Exeter School District for over thirty years as a Teacher's Aide dedicated to ESL students. Words cannot describe the passion, joy, and personal fulfillment she received teaching English to this special group of students with whom she made an everlasting connection. If students needed a loving scolding, lecture, or extra push of support, mom was going to give it to them. Pursuing college after high school was a frequent topic of conversation. Students knew Mrs. Gonzalez or Maestra (teacher) cared deeply about them and wanted only the best for their future. Nothing brought her greater satisfaction than when a former ESL student returned to Exeter High School to see her, met up with her on the street or in a store and shared they were enrolled in college or had graduated from college. She was always so proud of them. Spanning over twenty-five years, baking and decorating cakes was one of Rosie's amazing talents. Hours and hours of love, attention to detail and personal pride was poured into thousands of cakes. She made all types of cakes - birthday, wedding, baby shower, baptismal, first communion, and for any and all special celebrations, etc. Word spread quickly about mom's beautifully decorated cakes. On many weekends mom had four to five cakes on order. Her cakes were beautiful, delicious, and specially made. Mama Rosa's grandchildren were spoiled when it came to their birthday cake. All they had to tell her was what theme and flavor birthday cake they wanted and she made sure they got it. The excitement on their face when they saw the perfectly designed, cool-looking and one of a kind cake brought Mama Rosa a great deal of happiness and joy. As her illnesses advanced mom sadly was no longer able to continue creating beautiful cakes. This left a great void in her life. Our family has a new cake decorator to carry on Mom's legacy – Cristina. Mom was so proud her granddaughter had picked up her love, passion and talent for baking and decorating cakes. She always looked forward to seeing and tasting Cristina's beautiful cake creations. The last several years of mom's life came with numerous health challenges, but as many can attest, she never questioned God about them, and she never stopped smiling or saying she was "just fine" when asked how she was doing. She said hello to everyone she knew and didn't know and continued seeking and relishing in special hugs from her adult children, grandchildren, great grandchildren, relatives, and friends. She rarely complained about her daily struggles (and there were many) and instead chose to focus on her faith in God and the simple pleasures of life – a delicious cup of hot coffee with our dad in the morning and evening, breakfast at IHOP with all or any of us, a yummy slice of pie from Marie Callender's, a beautifully hand-written card for her birthday or holiday, sparkly jewelry, and close friendships, She loved surprising all of us with odd little trinkets she ordered out of the gazillion catalogs he received at home thinking somehow, we needed them and would love them as much as she. We often pretended to love them just to make her happy and see her smile. Mom had an abundance of faith in God. She knew He was always by her side no matter how tough some days became. She knew He was there as she silently began to accept and realize her health and life was slipping away. Her last day at home when she couldn't get out of bed due to a lack of strength and several unsuccessful attempts, she asked me to wait so she could pray and ask for God's help. Her strong faith, belief in God's love and never-ending determination sustained mom to the very end. Our family would like to extend a heartfelt thank you to the physicians, nurses, dieticians, aides, medical assistants, and staff at every doctor's office or dialysis clinic who ever took care of our mom. No matter how great or little you believe you did for mom, she appreciated your kindness – and trust us, we often heard of your acts of kindness. We especially want to thank the entire staff and patients at DaVita Dialysis in Exeter who became like family; Delta Nursing and Rehabilitation where mom recovered from surgery three and a half years ago, Dr. Kusai Aziz. Cardiologist and staff; Dr. Victor Grandt, Podiatrist and staff, KDDH Radiology; the Nurses and Aides on 4 North – especially Alex, Michelle, Gilbert, and Mary; Nurses and Aides on 3 South – especially Susan, Karina, Emily, Jonathan, and Chelsea, Palliative Care – Dr. Christopher Williams and Pat Boersma who tenderly and with immense compassion assisted our family on this most painful journey. We are indebted to mom's caretaker Cristina Gonzalez who came several times a week to tend to mom in the evenings. Cristina, thank you for your gentle and loving care. Mom greatly appreciated your help and always looked forward to serious and silly conversation, laughs and simple but special moments. Your love for our mom and the special bond you developed with her will always be deeply appreciated. Our Nina (godmother) and Mom's "sister" Martha we cannot tell your enough, although we believe you know, how much your time together meant to mom and how much she loved you. Thank you for your words of encouragement and for always being there when she needed you most. Lastly, our deepest and sincerest gratitude to Dr. Yasser W. Barsoum, Nephrologists, who truly was a Godsend to mom and our family. Dr. Barsoum went above and beyond time and time again when it came to exceptional care and compassion. Mom often shared how blessed she was to have Dr. Barsoum, she as blessed beyond measure by you and your staff, always treated as if she were your only special patient. Mom was touched by your deep concern for her and loved your kind greeting of "hello, sweetie" at every appointment and visit to the hospital. Our mom is in a blessed place and each of us have been blessed for having had you in our life. Not only are you the finest specialist in the area but you are an amazing human being. May God bless you as you continue to serve Him and your patients. A sincere thank you to her cherished and much-loved visitors who stopped by frequently for friendly conversation, bring her a little something to make her day, provide assistance, enjoy a good laugh, love on her, bring her the sacred host and pray – Maria Sigala and daughter Anna Jones, Patsy Erwin (Niece), Chandra Jaime (Sister-In-Law), Ruby Clinton (life-long friend), Mary Smith, Candy and Liz Becerra, Eva Estrada, Comadre Cuca Loera, Comadre Martha Alfaro, Comadre Maria Garcia and very special, Alex Holguin. If we missed anyone please know it was unintentional. Your kindness is also greatly appreciated. Rosie is survived by her husband Guadalupe (Lupe) Gonzalez, daughters, Elena Gomez (Tranquilino), Cathy Rodarte and Angie Marques (Mario), and sons Mark Gonzalez (Dolores) and Armando Gonzales (Tanya), and brother John Jaime (Chandra). Left to cherish Mama Rosa's/Grandma's special memories are her grandchildren – Alejandro Gomez (Ashley), Cristina Caldwell (Tom), Micaela Coffman (Terry), Joaquin Rodarte, Nicolas Rodarte, Georgia Bernal (Adam), Guadalupe (Buddy) Gonzalez, III (Tina), David (Davey) Gonzalez, Armando Gonzalez, Jr., Serena Gonzalez, Lexi Gonzalez, Katrina Gonzalez and Jasmine Gonzalez. Mom was blessed to have 13 great-grandchildren. She was predeceased by her parents, sons David (Davy) Gonzalez and Guadalupe Gonzalez, Jr, brothers Richard Jaime, Ted Jaime, Joe Jaime, Robert (Mingo) Jaime, and Ralph Jaime. The status of her brother Henry Jaime is unknown as he resides in Germany.