In Memoriam : Gary Potter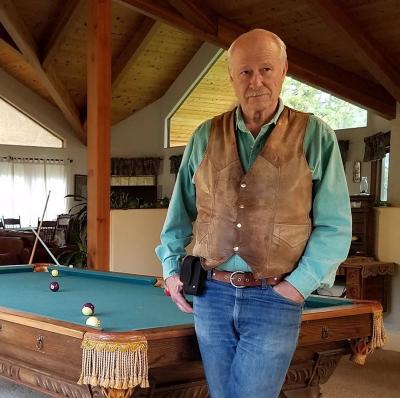 Gary Alan Potter - age: 70
(August 19, 1947 to October 04, 2017 )
Resident of Three Rivers, California

Visitation Information:
Mass will be said on Saturday, October 7, 2017 at 10:00 am at St. Clair's Catholic Mission, Alta Acres Drive, Three Rivers, CA. Burial will be in the St. Thomas Catholic Cemetery, Faulkton, SD.

Obituary:
Gary Alan Potter, 70, passed away on October 4th 2017 at Kaweah Delta Hospital in Visalia California following a battle with lung cancer. Gary was a long-time resident of Three Rivers California where he had resided for nearly 40 years. Gary was born in Faulkton South Dakota on August 19 1947 before moving to Porterville California at an early age with his parents Claire and Gwen Potter. He attended St Anne's elementary school and later Porterville High School. Gary enlisted in the United States Army in 1967 and graduated flight school in Fort Rucker Alabama. Gary served two tours of duty in the Vietnam Conflict where he served as an Aeromedical Evacuation (MedEvac) Pilot. Upon his discharge from the active duty Army in 1970 Gary continued flying helicopters for the California Army National Guard and several civilian companies. Gary also founded Potters Porta-Potties and was frequently seen throughout the central valley in one of his namesake trucks. Gary was a devout Roman Catholic and served in many capacities in several Catholic Parishes. On September 21st 1985 Gary married the former Katherine Quinn of Bakersfield California and they began building the Potters current home on North Fork Drive. Their children; James, Therese, Joseph and Marie were all raised in Three Rivers. Gary was a friend to all and was legendary for his sense of humor. He was also well known as a man of strong convictions who would always do what he thought was right. Gary is survived by his wife, mother, four children, his sisters Shirley of Sacramento and Charlene of Porterville and many other family members. Gary was laid to rest with Military Honors in St Thomas Cemetery in Faulkton SD on October 11th 2017 near his departed family.





---




Kelly Fox

- October 6, 2017 Contact this person


Dear Katie & Family: Byron & I send our sympathy to you in the loss of Gary. I was so sad to see the news in today's newspaper. What a shock. Gary was a devout godly man who surely loved you all very much. He also was fun, with a wry sense of humor and was so honest when he communicated. He was genuine, I really liked that about him. You all will miss him so. He is with the Lord. Isaiah 41:10. Love, Byron & Kelly Fox




---






Click to Enlarge