In Memoriam : Anita Fulbright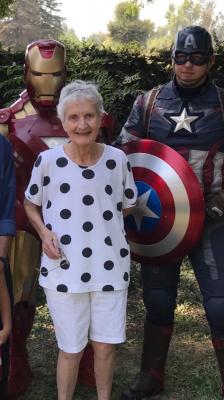 Anita Marie Fulbright - age: 85
(September 20, 1932 to December 05, 2017 )
Resident of Exeter, California

Visitation Information:
Memorial Services will be held on Tuesday, December 19th at 11:00am at Evans Miller Guinn Exeter Chapel , 425 Kaweah Ave, Exeter CA. There will be a lunch reception following the service at the Exeter Courthouse and Art Gallery and Museum, 125 E Palm Ave in Exeter in tribute to Anita's love for art and history. The art museum will be open to our reception.

Obituary:
On December 5, 2017, at the age of 85, Anita Marie Fulbright passed away peacefully at home with family by her side. Anita was born in 1932 in Lindsay, CA in a ranch house surrounded by her parent's orange grove. Anita grew up on the citrus ranch, and enjoyed gardening, and raising animals on the farm. Anita was a very strong woman, creative, imaginative and athletic; a true farm girl at heart. She played on the high school tennis team, and played mixed doubles. That's where she met the love of her life, Donald Lee Fulbright. After Don's unique introductory technique of hitting Anita in the back with his powerful tennis serve, one thing lead to another and they were married on December 8, 1951. Anita continued her education at San Jose State studying Occupational Therapy while Don enlisted into the Navy and was stationed in San Diego. Their son, Donald L Fulbright, was born in 1952 in San Diego and three years later their daughter, Carol was born in Lindsay .
Anita ran her ranch home in Lindsay with pride, cooking, sewing, and keeping the farm's financial records. She was known for growing vegetables and award winning tomatoes, pulling sprinklers on her quad, and tirelessly grooming the kiwi's. Anita was active in the Descendent s of the Mayflower, and Daughters of the American Revolution. She had a love for art and oil painting and she belonged to the Lindsay Art Association, and participated in the annual Lindsay Art Festival. Our home was adorned with her oil paintings with mountain, ocean, rivers, and floral scenes. Her creativity also blossomed in sewing the family's one-of -a- kind tailored shirts and dresses and homemade Halloween costumes for the neighbors, classmates and grandchildren. Those home-made Halloween creations were always a big hit at Sunnyside Elementary's Halloween parade. She also dabbled in the art of taxidermy, and there were always creative projects waiting in the freezer. Anita could make something great out of the simple things around the house. With her creative twist, everything became art.
Don-Anita in their golden years toured the country, mountains and sea side on their Gold Wing motorcycle. They rode with a group of life-long friends, and these adventures always yielded good stores, fellowship and never ending jokes. They had a cabin at Shaver Lake and relished the cinnamon pull apart bread from the Shaver Lake Bakery. Truly golden years, spent with life long friends and family. They retired from the citrus business to their ranchette-home in Exeter in 2000. Anita carried on her gardening, and riding her quad around the property. She cleverly hooked up a mini trailer to her quad for hauling gardening trimmings to the dumpster. They had a couple of orange trees, a grapefruit, and a Pamello tree, that supplied the daily diet of citrus that was a family staple. And every spring she planted her prize winning tomatoes. After her work outside in the sunshine, Anita enjoyed watching golf on TV. She loved the beautiful scenery of the golf courses, the soft spoken announcers, and the respectfulness of the sport. The only thing better to top off the day was a Wendy's Frosty !
Anita was proceeded in death by her parents, Harold and Ruth, her brother Theodore Carr, and her beloved husband Don Fulbright . She is survived by her brother, Malcomb Carr and his wife Ginnie, and sister-in-law Jan Carr, and her son Don L Fulbright and daughter Carol. She was blessed with six grandchildren :Andrea (Joe), Melissa (Derek), Sherry (Matt), Allison (Nadar), Wayne(Amy) and Anissa, and seven great-grand children, (Jacob, Devin, Carter, Heidi, Arshaun, Deker, and Harry).
The family is grateful to our loving family and friends for their comfort, care, and support, and also to Kaweha Delta 3North medical teams, and our home health care team and Optimal Care. In lieu of flowers the family requests donations be made to any Veteran's group, children's educational institution, art or history organization, or your favorite charity.