In Memoriam : Emma Clark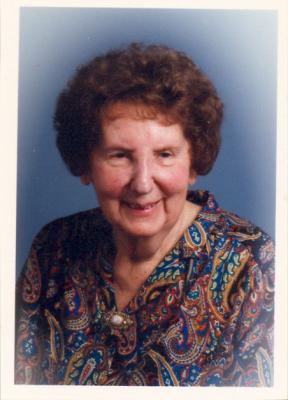 Emma Elizabeth Clark - age: 95
(November 10, 1914 to March 01, 2010 )
Resident of Exeter, California

Visitation Information:
Chapel Services will be held on Friday, March 5, 20101 at 10:00 am at Evans Miller Guinn Exeter Chapel. Visitation will be held on Thursday, March 4, 2010 from 2:00 to 6:00 PM at the chapel. Burial will be in the Exeter Public Cemetery.

Obituary:
Emma Elizabeth Clark passed away peacefully on Monday, March 1, 2010, at the age of 95. Emma was born in Fresno on November 10, 1914, to Rachel and Robert Earl Levey. They lived in Fresno several years where Emma graduated from Roosevelt High School. They later moved to Exeter to a house on Spruce Road built by Emma's grandparents where she lived until she married Clarence J. Clark on August 7, 1941. They moved to Three Rivers and then to their ranch outside of Exeter, where she was a homemaker and ranch bookkeeper. Before marriage, Emma graduated from College of Sequoias and then in 1938 from Fresno State College with her teaching degree. She then taught at East Lynne School (now Mineral King) in Visalia and Lincoln Elementary in Exeter, teaching first through fourth grades. She was very active throughout her life with many community and school organizations—a member of the Locust Grove School Parents group, active in 4-H club, member and officer in Methodist women's groups, California Poppy Garden Club, Exeter High School Patron's Club, a pink lady with the Exeter Hospital Guild and other organizations. She was a 52-year member of Eastern Star. She was a member of the United Methodist Church in Fresno, later transferring her membership to the Exeter Methodist Church, where she was a member for around 75 years. Emma was an avid gardener, having lots of flowers planted and a vegetable garden almost every year. She also loved music and besides having a lot of music in the house, she played piano for various functions with the groups that she belonged to. She loved spending time with her family and enjoyed many family trips camping in the mountains, to the coast and lots of picnics and dinner get-togethers. Emma was an avid reader all her life and there were always books in her home for the family.
She is survived by her loving family: Son John Clark and wife Lorene and daughter Karen Jeffries, all of Exeter. She took great pride, also, in her grandchildren: Stacey Clark Kelch and husband Caleb and Douglas Jeffries, also of Exeter. She is also survived by brother-in-law Howard Eilenberger of Tucson, Arizona, and many nieces and nephews. She was preceded in death by her husband of 62 years, her parents, and her sisters Frances Levy Eilenberger and Winifred Levey Schmitt.





---




Carl Hardin

- March 3, 2010 Contact this person


JOHN & KAREN SO SORRY TO READ ABOUT YOUR MOTHER PASSING, WE WERE NEIGHBORS A LONG TIME. YOUR IN OUR THOUGHTS AND PRAYERS DURING THIS DIFFICULT TIME. CARL & MAXINE HARDIN




---




Sharen Mangels

- March 5, 2010 Contact this person


Karen and family I was so sorry to learn of your Mother's passing. My heartfelt thoughts of sympathy are with you all. Sharen (Fry) Mangels




---






Click to Enlarge