In Memoriam : Loyd Keener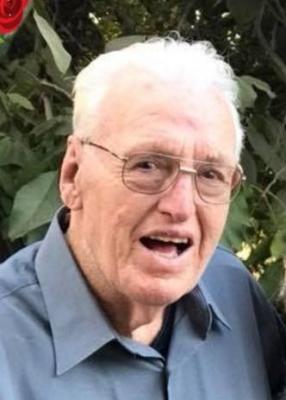 Loyd Edward Keener - age: 91
(December 20, 1926 to January 10, 2018 )
Resident of Visalia, California

Visitation Information:
Visitation will be held on Tuesday, January 16, 2018 from 2:00 to 7:00 pm at Evans Miller Guinn Chapel. Funeral Services will be held on Wednesday, January 17, 2018 at 12:30 pm at the chapel followed by burial at the Exeter District Cemetery.

Obituary:
Loyd Edward Keener was born in Mountain Valley, Arkansas on December 20, 1926 to Amos and Mamie Keener. He passed away in Visalia, CA at the age of 91. He came to California in 1941 settling in the Farmersville area. He spent many years as a mechanic/walnut farmer. He was drafted in the US Army in 1945. After he was discharged, he married Mary Mayberry in 1947 and they celebrated 70 years of marriage. He is survived by his wife Mary, daughters, Darlene Roug of Brentwood, TN, and Sharon (David) Rowton of Farmersville, CA, daughter in law, Connie Keener of Sacramento, CA. 2 brothers, James Keener of Visalia, CA and Rodney (Perri) Keener of Eugene, OR. Sisters, Leota (Bill) Phillips of Tucson, AZ and Laverne (Alvin) Wilson of Bakersfield, CA. 6 Grandchildren, 7 Great Grandchildren and 3 great great granddaughters. He is preceded in death by his parents, 2 sons Allan and Eddie Keener and a brother, Glen Keener and a sister, Omalee Dunbar.





---




Jean Chesser

- January 17, 2018 Contact this person


May you know your family is in our thoughts and prayers that the holy spirit will comfort you in this time of sorrow. I know you have many beautiful memories to share, as I enjoyed the times I was able to visit with Loyd outside walking around his property when I visited my son CJ next door and ran around with his black lab. Please let us know of anything we can do to help you, Mary, or your family. Sincerely, Jean Chesser




---




Connie Sing

- January 17, 2018 Contact this person


I am so sorry to hear of Loyd's passing. Unfortunately I just saw the Obit in Tuesday's Times Delta and the funeral service is already in progress, so too late to attend or send flowers. My sincerest sympathy and love to the family. Connie Qualls Sing




---