In Memoriam : Bonnie Wells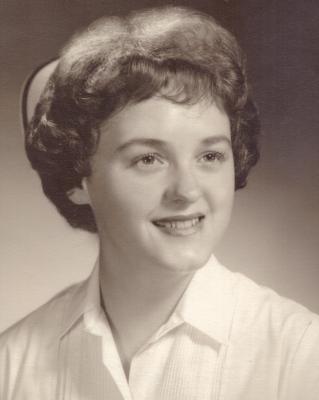 Bonnie C. Wells - age: 76
(February 09, 1941 to January 26, 2018 )
Resident of Lemon Cove, California

Visitation Information:
Viewing will be held on Sunday, February 4, 2018 from 2:00 to 5:00 pm at Evans Miller Guinn Chapel. A Celebration of Life will be held on Monday, February 5, 2018 at 11:00 am at the Faith Tabernacle Church, 515 South Filbert Street at the corner of Firebaugh, Exeter. Burial will be private in the Exeter District Cemetery

Obituary:
On January 26th, 2018, after a long struggle with Alzheimer's disease and with family by her side, Bonnie Colleen (Daly) Wells left us to be home with the Lord. She was 77 years old.
Bonnie was born on February 9th, 1940 in Fresno, CA to her parents, Patrick A. Daly and Florence G. (Moore) Daly. She graduated from Tranquility High School in San Joaquin, CA in 1957. Bonnie continued her education at Hollywood Presbyterian College, earning her Registered Nursing Degree in 1961. Upon graduation, she began her career at Exeter Memorial Hospital in the Obstetrics Department and found her heart's desire as a geriatric specialist. She retired from Kaweah Delta after over 40 years of nursing service.
Bonnie eloped with Billy Wells to Nogales, Mexico in 1959. Then, a year later, they were properly married in Exeter, CA at the request of Bonnie's father. The Wells' lived in the old Daly homestead in Yokohl Valley during which time their first child was born. Billy and Bonnie later moved to and managed the Woodlake Ranch Christian Camp in Elderwood, CA. They served in the ministry of First Baptist Church, The Navigators, and Hume Lake and retired after 13 years of service. After retiring from ministry, Bonnie went back into full time nursing as well as supporting her husband in cattle ranching endeavors.
Bonnie was big hearted, quirky, and had the gift of hospitality. Famous for her Lemon Bars, Persimmon Cookies, and UNSWEETENED Tea she was always ready for unexpected guests. Bonnie loved gardening, keeping up with her grandkids, and her sweet dog Daisy. Few knew about her obsession with Daytona 500 racing on the radio. Bonnie was a true prayer warrior and had a special way of seeing the Lord's work in everything around her.
Bonnie is survived by her husband, Billy Wells; children, Michael Wells his wife Pennie from Porterville CA, Donna Rice her husband Bryan from Morrill NE, and Sarah Wells from Lemon Cove CA. She was richly blessed with 16 grandchildren, 12 great-grand-children and currently 3 in the oven. She was proceeded in passing by her daughter Mary.





---




Linda Akeyson

- January 29, 2018 Contact this person


Bill and family....my love and condolences to you all.




---




Gary Head

- January 29, 2018 Contact this person


Kathie and I send our condolences to you and your family.




---




Debbie Salazar

- February 1, 2018 Contact this person


It sadness us to hear of the passing of such a kind, gentle, loving and spiritual person. It was an honor to know Bonnie and she will be missed dearly. While it is a loss to all of us who knew and loved her, it is a comfort that she walks with our Lord. The Wells Family is in our hearts and prayers.




---




Saundra Brockman

- February 3, 2018 Contact this person


August and I send our love and condolences to you and your family.




---