In Memoriam : Edna Ruminer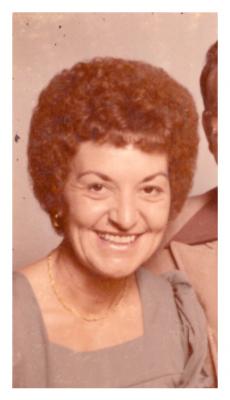 Edna Louise Ruminer - age: 79
(July 02, 1938 to January 29, 2018 )
Resident of Woodlake, California

Visitation Information:
Visitation will be held on Tuesday, February 6, 2018 at Evans Miller Guinn Chapel in Exeter from 2:00 to 6:00 pm. Funeral Services will be held on Wednesday, February 7, 2018 at 10:00 am at the Presbyterian Church of Woodlake, 600 West Naranjo Blvd, Woodlake. Burial will be in the Woodlake District Cemetery.

Obituary:
Edna Louise (Sweeney) Ruminer, age 79, passed away peacefully with her family at her side January 29, 2018. She was born in Woodlake, CA on July 2, 1938 to a Pioneer Family, Doc (Philip) and Gladys (Coker) Sweeney. Edna grew up in the Woodlake area and graduated from Exeter High School in 1956. She married Dwight Ruminer in 1960 and celebrated their 57th wedding anniversary on July 30, 2017. Edna was a loving wife, mother, grandmother, sister, aunt and cousin. She worked for 32 years with husband Dwight, managing the day to day operation of their produce business, Ruminer's Produce in Visalia. She was preceded in death by her parents, Doc and Gladys Sweeney, daughter Cheryl Ann Ruminer Bree, grandson Ryan Bree and Brothers Eddie and Vernon Sweeney.
Edna is survived by her husband Dwight Ruminer, her son Dewayne Ruminer (Wanda), her daughter Fredna Van Dellen (Andrew), 4 grandchildren Meredith Bree Meehan (Dillon), Scott Shepherd, Stephen Ruminer and Jesse Morales (Monica), 7 great grandchildren and only surviving sibling, her sister Mable Stailey. She is also survived by numerous cousins, nephews and nieces who lovingly referred to her as "Aunt Susie". Her keen ability to be truly authentic, honest and forthcoming about how she saw or felt about a situation is unique to only her. She will be dearly missed by all.





---




Anne Gughemetti

- February 5, 2018 Contact this person


TO UNCLE DWIGHT & FAMILY FILL NOT YOUR HEARTS WITH PAIN AND SORROW, BUT REMEMBER ME IN EVERY TOMORROW. REMEMBER THE JOY, THE LAUGHTER, THE SMILES, IVE ONLY GONE TO REST A LITTLE WHILE. ALTHOUGH MY LEAVING CAUSES PAIN AND GRIEF, MY GOING HAS EASED MY HURT AND GIVEN ME RELIEF. SO DRY YOUR EYES AND REMEMBER ME, NOT AS I AM NOW, BUT AS I USED TO BE. BECAUSE, I WILL REMEMBER YOU ALL AND LOOK ON WITH A SMILE. UNDERSTAND, IN YOUR HEARTS, IVE ONLY GONE TO REST A LITTLE WHILE. AS LONG AS I HAVE THE LOVE OF EACH OF YOU, I CAN LIVE MY LIFE IN THE HEARTS OF ALL OF YOU. HEAVEN NOW HAS ANOTHER ANGEL THAT WILL BE WATCHING OVER THE FAMILY. TOMORROW IS NOT PROMISED TO ANYONE, SO REMEMBER TO ALWAYS BE KIND TO EACH OTHER AND LOVE ONE ANOTHER. AUNT EDNA, MAY YOU REST IN PEACE NOW. YOU WILL BE MISSED AND NEVER FORGOTTEN LOVE, ANNE ELIZABETH GUGHEMETTI




---