In Memoriam : Fern Rowlett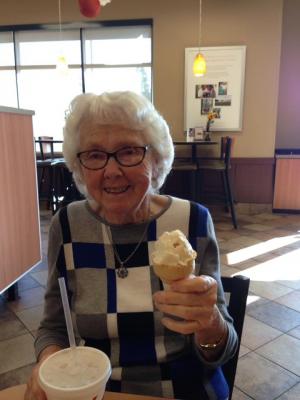 Fern Rowlett - age: 87
(November 11, 1930 to April 20, 2018 )
Resident of Farmersville, California

Visitation Information:
Viewing will be Wednesday, April 25 from 2:00-6:00 pm at Evans Miller Guinn Chapel in Exeter.
A graveside service will be held Thursday, April 26, at 10:00 am at the Exeter District Cemetery.

Obituary:
Fern Rowlett, 87, of Farmersville, known to many as "Grandma Fern," was born on November 11, 1930, and passed into eternity to be with her Savior and reunited with her beloved husband, Gene, on April 20, 2018. Fern Adams was born in Montgomery County, Arkansas to Lee and Bessie Adams, who both preceded her in death. At the age of 17, her family moved to California, where she met Gene Rowlett, the love of her life. They were married in August of 1948 and shared 32 wonderful years before his death in 1981. Together, they raised two children, Don (Cathy) Rowlett and Connie (Kevin) McAlister. Fern was an elementary school teacher for several years and a Sunday school teacher for decades. She loved working with children and often declared that she was just a big kid herself. She will be remembered for her delicious strawberry pies and Coco-Cola cakes which she made and delivered to so many people, her love of children and her faith in God. She is survived by her children; grandchildren, Dawnalee (Virgil) Gonzalez, Josh (Jamie) Rowlett, Jill McAlister, Daniel (Selena) McAlister; and great-grandchildren, Josh Findley and Jake, Wade & Ellee Rowlett.