In Memoriam : Minnie Fesperman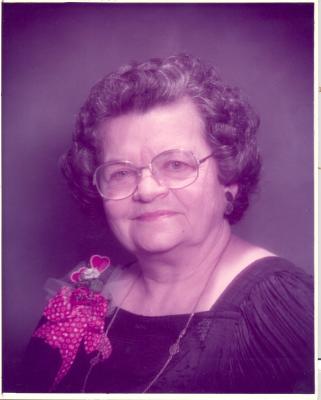 Minnie B. Fesperman - age: 96
(June 03, 1913 to March 20, 2010 )
Resident of Woodlake, California

Visitation Information:
Graveside Funeral Services will be held on Friday, March 26, 2010 at the Woodlake Public Cemetery at 10:00 AM

Obituary:
Minnie Bartmess Fesperman, 96 years old, went to be with the Lord on March 20, 2010. She was born on June 3, 1913, in McCurtain, Okla. She married James Thrice Fesperman In 1930. They moved to Ivanhoe in 1935, and then moved to Woodlake, in 1945, where they purchased a small orange/olive ranch. Minnie raised & sold berries there that many people enjoyed.

They had three children, Gene & Jimmy Fesperman and Peggy Wooten. Minnie had three brothers and three sisters. Preceding her in death, was her husband, Thrice and her two sons, Gene & Jimmy and two brothers and two sisters. She is survived by one sister, Loeta Carter, of Clearlake, CA., and one brother Curtis Bartmess living in Ada, OK, and one daughter Peggy Wooten of Arizona. She is also survived by two Daughter – in- laws, Alice Fesperman and Mary Lou Fesperman. She had five grandchildren, Steve Fesperman (Lisa) of Woodlake and Ken Fesperman (Debbie) of Visalia, Ruth, Bardin and Cheryl of Arizona. She had nine great, grandchildren and was privileged to be able to spend a lot of time with four of them who lived close by, Madison, Zack, Danielle and Toby. She was able to attend many of their sports events and activities. They truly loved their G.G.

The Dodger's lost one of their most avid fans. She listened to all their games on her little transistor radio. She knew all the players, their stats, etc. Our grandma was a devout Christian and had been a member of the Nazarene Church in Woodlake for 45+ years. She was their pianist, singer, Sunday school teacher, etc. She was a self-taught, creative, accomplished woman and a friend to all.

In lieu of flowers, contributions can be made to the Woodlake High School Foundation/ the Gene Fesperman (Minnie) scholarship fund. She was an advocate of higher education and this scholarship in memory of Gene was dear to her heart. Address: Woodlake High School Foundation, 400 W. Whitney Ave, Woodlake, CA 93286

Special thanks to the staff (Mary, Monica, Susan, and all others) at Westgate Gardens Conv. Hospital, who provided such excellent care and made our grandmother's (G.G.) last days as comfortable as possible.





---




Margaret Schroeder

- April 6, 2010 Contact this person


Peggy, Alice, Mary Lou and Grandchildren: Please accept my condolences on the passing of Aunt Minnie. I have been thinking about her a lot lately as my Mom, Margie, died on February 10th of this year and she and Minnie were pretty close in age. This morning I decided to "google" her name and the obituary came up. I am sure you all miss her a lot, she was vivacious, creative and independent woman who we all loved. Sandy and I always loved coming out to her "ranch house" when we were visiting in Ivanhoe. I'm just sure Mom was there to greet her with open arms when she arrived in heaven and all of our loved ones are rejoicing to be together again. Love, Margaret




---