In Memoriam : Lucille Richert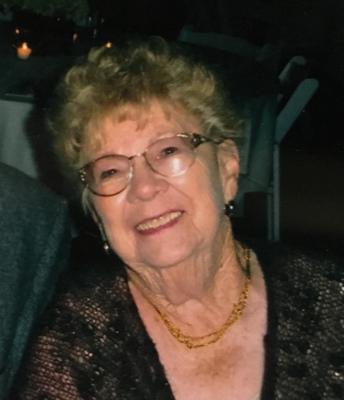 Lucille Richert - age: 94
(October 24, 1923 to August 13, 2018 )
Resident of Exeter, California

Visitation Information:
Private Family services will be held August 24th and 25th.

Obituary:
Lucille Evelyn (Reimer) Richert of Exeter passed on the be with our Lord August 13, 2018. She was born October 27, 1923 to Abraham and lizzie Reimer in Corn, Oklahoma. Growing up in the German Mennonite community of Corn Valley she was known for being a gifted athlete. She played first base for the boy's high school baseball team and could beat anyone in a foot race who dared challenger her. In fact, running is how she met her future husband Abe Richert when she stumbled across the finish line of a race and literally fell into his arms. When WWII broke out, Abe enlisted in the Navy and she took the train to marry him in Oakland, California while he was on a short leave on September 27th, 1943.
While Abe was deployed in the Pacific, she worked at the Santa Cruz Boardwalk's Ideal Restaurant along with her best friend and fellow Corn native Mandy Hoock. After the war Abe and Lucy returned to Corn and continued to farm, barber and raise their three children. Later they decided to return to college and earn their teaching degrees. From there they moved to and started teaching at Edward Air Force Base in 1962. They then move to Lindsay where Lucille taught 3rd grade and then became a remedial reading instructor in Strathmore. She loved teaching children to read.
Abe and Lucy were always together and loved traveling and golfing across the United States. They especially enjoyed meting their friends at the Exeter Golf Course for coffee and chatter. In their retirement years they took many Bible breakfast trips both locally and abroad with their good friend Rev. Westbrook to Europe, Australia and Israel. They especially love to have family get togethers for every holiday.
Lucy was preceded in death by her parents, the love of her life Abe Richert, sister Velina Engle (Penny) and Brother John (Martha) Reimer. She leaves behind daughters Jeanne Paragien (Ron), Patty Hylton (Dennis) and her son Ed Richert (Becky) as well as six grandchildren and 8 great grandchildren.
The family would like to give special thanks to Magnolia Park Assisted Living and Optimal Hospice Care of Visalia for their care of Lucy in her final years.