In Memoriam : Barbara Goodale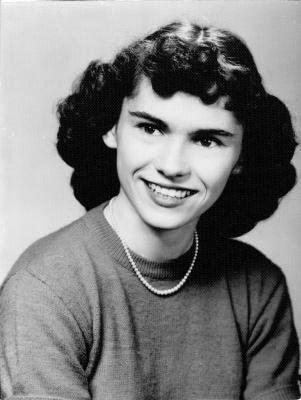 Barbara Ann Goodale - age: 83
(July 13, 1935 to January 11, 2019 )
Resident of Madera, California

Visitation Information:
Visitation will be held on Friday, January 25 at 8:00 am follow by a Chapel service at 10:00 am at Evans Miller Guinn Chapel. All that knew her are welcome to attend.

Obituary:
Barbara Ann Rector Goodale passed away on Friday, January 11, 2019 at the age of 83. Barbara was born in Exeter, California, on July 13, 1935, to Ray and Charlie Rector. Barbara graduated from Exeter Union High School in 1953, then attended College of the Sequoias. She also attended the Arthur Murray School of Dance.
Barbara was married from 1960 to 1977 to Charles Chester Goodale, Jr. She raised three sons: Charles, Chester, and Tim; and one daughter: Kelly. Barbara is survived by her sister: Cathy Statham of El Dorado Hills, California, and by three of her children: Chester Goodale of Madera, California; Tim Goodale of Payson, Utah; and Kelly Nuttall of Castaic, California. She has 12 grandchildren and a growing number of great-grandchildren. Barbara was an accomplished dancer and enjoyed genealogy and sewing. She loved to sing and play her piano. Her greatest joy in life was from her family.