In Memoriam : Audie Ray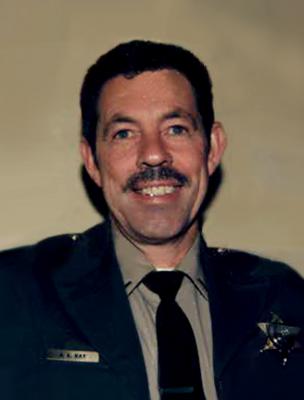 Audie E Ray - age: 80
(December 12, 1938 to February 04, 2019 )
Resident of Exeter, California

Visitation Information:
No Service

Obituary:
Audie was born in County of Okmulgee in Oklahoma on December 12, 1938 to Charles and Lena Ray. His family moved to California in 1946. Finally settling in Woodlake, he attended Woodlake schools, graduating from Woodlake Union High School in 1957. He went on to College of Sequoias, majoring in Law Enforcement. Audie married Lu Ellen Atwood in 1960. He is survived by his wife, Lu and four children (Brenda; husband Fred Plum Jr., Scott; wife Debra, Chuck; wife Mickie and Kirk Ray. They also have eight fantastic grandchildren and three awesome great grandchildren that he loved dearly. Audie worked on the Woodlake police Department for three and a half years, the back full-time to Tulare County Probation at the Road Camp in Terra Bella as Superintendent. When County consolidated Road Camp with Woodlake Road Camp, he moved there and then on to Sequoia Field Correctional Center where the Sheriff Office tool over. He Served on the Tulare County Gang Task Force. He stayed with the Sheriff's Office until he retired in 1995 as Lieutenant Commander of Bob Wiley Detention Facility. He has been a member of Woodlake Lions Club for over Forty years, serving in all officer seats, including President, Zone Chairman, and then Secretary for four years, while he was on the Project Committee; Lions Club did the entrance signs to the City of Woodlake, as well as the bleachers at Woodlake Union High School football field. Audie was one of the first board members of the Francis J. White Lions Club Center. He was chairman for Woodlake area cancer drive, in the 1960. He served on the Woodlake Volunteer Fire and ambulance district for over 17 years and was engineer when he left. Also he served four years on Woodlake City Council as Vice Major and four years on Woodlake Planning Committee. Audie loved the Woodlake community and all the friendly people there. After retiring he was diagnosed with cancer in 2005. They sold the ranch and moved to Exeter. This move had them close to doctors and family. Exeter has always been a friendly community, which Audie said that often. He and Lu, wife and caregiver, had a battle ahead of them with Audie's cancer. They both used each other strength and got through a bone marrow transplant he endeavored. Years later, another battle came, dementia. A now strong man was starting to forget little items. Sadly, years passed and slowly the dementia won. His family says he has always been a workaholic but he did find time for his hunting, fishing and camping trips with family and friends and of course, "The Rentals", or as Lu states, "his extended family" and anyone who knew him knows his rentals kept him going. He got a kick out of seeing his grandkids on the trips and remembering when his kids did the same things. Audie also enjoyed playing card and dominoes with family and friends. Audie always said he owed his success to his wife, Lu and his kids for their help through the years. We all miss the man we knew and loves. We know he is resting in peace. At Audie's request, there will be NO service. In lieu of flowers, the family request donations in Audie's name are made to: Sequoia Regional Cancer Center at 4945 W. Cypress Ave, Visalia, CA 93277 Phone Number (559) 624-3000. Condolences may be sent to the family at www.evansmillerguinnchapel.com. Services entrusted to Evans Miller Guinn Chapel.





---




Tim Berbereia

- February 21, 2019 Contact this person


I wish to express great sadness at Audie's passing. I would like to extend my sympathy to Lu and to the family. Audie, Lu and family always treated me well , just like family, and I am very grateful for their help and friendship over the years. Audie was a kind, sometimes tough, good hearted man, and when I worked for him he taught me much. The last time we spoke, a few weeks before he left us, we remeniced about some great times we had when I worked for him, and we had a good laugh together. I had much respect for Audie, he was a mentor and a friend and I will miss him. May God bless.




---