In Memoriam : Rachel Gonzales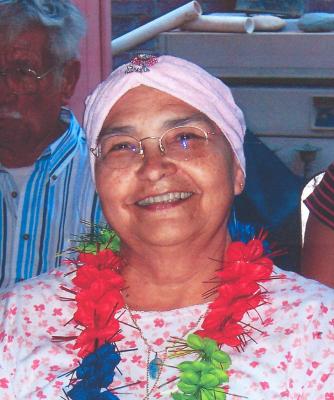 Rachel - Gonzales - age: 70
(July 10, 1939 to May 10, 2010 )
Resident of Exeter, California

Visitation Information:
A Rosay will be prayed on Thursday, May 20, 2010 at 6:00 PM at Evans Miller Guinn Exeter Chapel. Mass will be celebrated on Friday, May 21, 2010 at 10:00 AM at Sacred Heart Catholic Church in Exeter.

Obituary:
Rachel Gonzales was born July 15, 1939 in Tulare CA. She returned to Her Heavenly Father on May 16, 2010. She was 70 years of age. She was married to Antonio Gonzales in 1957. Rachel worked as a Teachers Aide at Sequoia Union School, then as a Bookkeeper for 20 years. She loved to travel to the mountains and to the beach. She loved to read books, crossword puzzles, bowling, Bunko and of course the Casino's. She had three sons, Antonio Gonzales Jr., Mike Gonzales and Martin Gonzales. She had a great love for life and enjoyed her time with friends and family to the fullest. She will be missed by all that had the fortune of knowing her. Rachel was preceded in death by her Father Carmen Cruz, Mother Josephina Cruz, Brother Rudy Cruz Sr., Sister Virginia Delgado and Sister Alvina Gonzales.
She is survived by her husband of 54 years, Antonio Gonzales, her son Antonio Gonzales Jr. and wife Terry of Porterville, her son Mike Gonzales and wife Cheryl of Porterville, and son Marty Gonzales of Exeter. She had 9 Grandchildren and7 Great Grandchildren. Rachel is also survived by her brothers, Carmen Cruz of Mexico, Ismael Cruz of AR, Mario Cruz of AR and sisters Carmelita Cornell of CA and Mary Plata of TX.





---




Donna Ramirez

- October 1, 2010 Contact this person


I was on the internet today and I came to someone looking for Alvina or Raul Gonzales. This brought me Rachels obituary. I remember when we were in high school and then young mothers. I am sorry to hear about Rachel. I think of their family with fond memories. Tony, God Bless you and your family. Rachel is a wonderful person. I wish I could of been there but living out of state I was not aware of her death. Again, May God be with you and all the family.




---