In Memoriam : Mary Bastady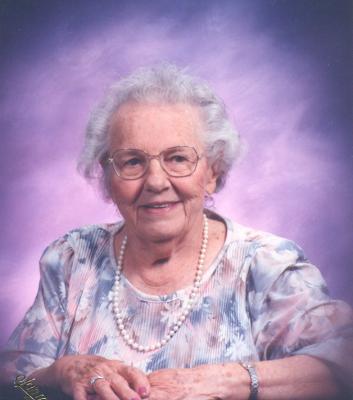 Mary Helen Bastady - age: 95
(August 13, 1914 to May 31, 2010 )
Resident of Exeter, California

Visitation Information:
Visitation will be held on Sunday, June 6, 2010 from 2:00 to 6:00 PM at Evans Miller Guinn Exeter Chapel. Funeral Services will be held on Monday, June 7, 2010 at 10:00 AM at the chapel. Burial will follow at the Exeter Public Cemetery District.

Obituary:
Mary Helen Bastady, age 95 of Exeter, passed away in Porterville, CA on May 31, 2010. She was born in Jasper, Indiana on August 13, 1914. Mary Helen was the eldest of 6 brothers and 1 sister. In 1929, the Fisher family moved to Fullerton CA. Mary Helen graduated from Fullerton High School in 1932 and Fullerton Junior College in 1934. She married Ernest Emanuel Bastady in 1935 and lived in Buena Park on an orange ranch. Mary Helen worked as a bookkeeper at Knott's Berry Farm for 13 years. In 1956, the family moved to Exeter and Mary Helen and her husband operated an orange ranch with Ernest's brother.
Mary Helen was a dedicated housewife who love to garden, entertain and correspond with her many friends and relatives. She was a member of the Exeter Garden Club, a counselor at Y-Camp, a Sunday School teacher and a member of the DAR. She is preceded in death by her parents, Carl Edward Fisher and Elizabeth Wheeler DeMotte, her husband Ernest Emanuel Bastady, a son James Edward Bastady, and brothers Charles Fisher, Mark Fisher, Carl Fisher, John Fisher and Jim Fisher.
Mary Helen is survived by her son, Donald Bastady and wife Shirley of Porterville, grandson David Bastady of Porterville, granddaughters Lisa Burns and husband Peppard of Porterville, Sheri Mariano and husband Frank of Exeter, great-grandchildren Zachary Burns and McKenna Burns of Porterville. She is also survived by a sister, Johanna Cariker of Orange, California, a brother Edgar Fisher of Turlock California and many nieces and nephews.
During the past 12 years, Mary Helen has received excellent care at Westwood Eldercare in Porterville.
Donations may be made to the Camp Scholarship Fund of Calvary Baptist Church, 1768 North Newcomb Street, Porterville, CA 93257.





---




Karen Jeffries

- June 8, 2010 Contact this person


I am very sorry for your loss. I did not know Mary Helen, but my mother, Emma Clark, was a good friend of hers and spoke affectionately of her often, so I felt like I knew her. She thought a lot of her and had many good memories of their chats and times together, exchanging Christmas messages. Mother passed away on March 1 and was the same age as Mary Helen. May God bless you with wonderful memories.




---