In Memoriam : Lela Barbee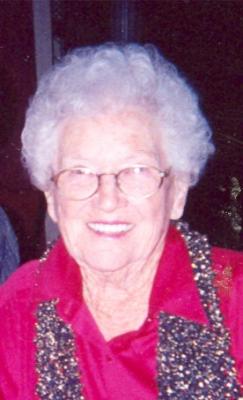 Lela M. Barbee - age: 96
(May 29, 1915 to July 21, 2011 )
Resident of Exeter, California

Visitation Information:
Family and friends are invited to a public visitation on Tuesday, July 26, 2011 from 2:00 to 7:00 PM at Evans Miller Guinn Exeter Chapel located at 425 North Kaweah Avenue, Exeter CA. Services shall be held at Jesus Name Church of Cameron Creek, located at 29076 Road 164, Visalia CA on Wednesday, July 27, 2011 at 11:00 AM. Following a reception at the church, burial will be in the Exeter District Cemetery at 2:00 PM.

Obituary:
Lela Mae Shelton Hardin Barbee
Born May 29, 1915 and went to be with her
Heavenly Father, the Lord Jesus Christ on July 21, 2011.

Lela was born in Ada, Oklahoma on May 29, 1915 to her proud parents Christopher and Minnie Shelton, the 2nd of 13 children. She passed away at the age of 96, in Visalia, California. Up until very recently, Mom worked tirelessly crocheting, knitting and sewing. The many blankets, afghans and baby clothes were truly one of a kind. It would be difficult to guess how many skeins of yarn slipped thru her fingers. Well, like so many before us, we lost our Mom. But we still have great memories and beautiful afghans. Thanks Mom.
She married Armor J. Hardin in December, 1932 in Oklahoma. They had three children: Carl James Hardin, Viola Mae Hardin-Meinhold and Delbert Lee Hardin. They moved to Tulare County in 1943. After the passing of Armor in July of 1972, Lela married Audie Barbee. They enjoyed thirty five plus fun filled years together until his passing in July of 2009. They were best of friends and very much in love. Their life was rich with laughter and happiness. They enjoyed working together on may crafts, which they shared with family and many friends. They attended Cameron Creek Church and assisted with the many tasks of the building of the new church.
She was preceded in death by her Father Christopher Columbus Shelton, her Momma Minnie Sanora Way Shelton, her Brothers James Arthur Shelton, William Robert Shelton, Jackie Dean Shelton, Newton Wray Shelton, Columbus Jefferson Shelton and her Sisters Ida Marie Shelton Sheffield and Ethel Jean Shelton Sears.
Lela is survived by her beloved Chihuahua "Tiny", her companion and friend, her children Carl James Hardin and his wife Maxine of Hollister, CA, Viola Mae Hardin "Wendy" Meinhold and her husband William of Prescott, AZ, Delbert Lee Hardin of Visalia, CA and Stepson Audie "Pete" Barbee of Medford, OR; two sisters, Shirley Ann Shelton Wilson, Minnie Lee Shelton Owens Grissom; three brothers Roland Shelton, Truman Shelton and Harland Shelton. She is also survived by her Grand Children Amy Hardin Soto, Amber Hardin Block, Weston Hardin, Michael Hardin, Michelle Hardin, Tommy Tucker, Kimber Tragraz and Michelle Barbee. She had many precious Great Grand Children.