In Memoriam : Eliceo Alcala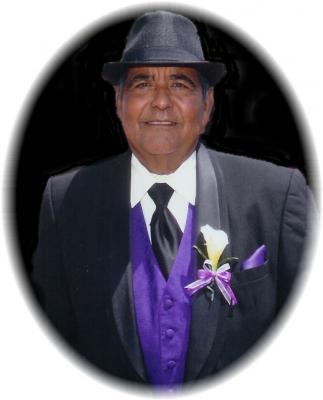 Eliceo A. Alcala - age: 65
(December 26, 1946 to May 24, 2012 )
Resident of Farmersvile, California

Visitation Information:
Visitation will be held on Thursday, May 31, 2012 from 2:00 to 6:00 PM followed by a Rosary at 6:00 PM at Evans Miller Guinn Chapel. Mass will be said on Friday, June 1, 2012 at 1:00 PM at Sacred Heart Catholic Church in Exeter, CA. Burial will be in the Exeter District Cemetery.

Obituary:
Eliceo was born on December 26, 1946 in Michoacan, Mexico to Roberto and Carlotta (Arceo) Alcala. He married Angela Cervantes in Mexico on March 10, 1973. He worked as a Heavy Equipment Operator for over twenty years in the farming industry. He loved to work in his garden and was a constint joker.
He is survived by his wife, Angela of Farmersville; three sons Eliceo Alcala Jr. of Bloomington CA, Jose Alcala of Visalia and Angel Alcala of Exeter; one daughter Carla Guerra of Farmersville; six brothers, Mario, Jose, Roberto, Jorge, Carlos, and Salvador "Chava"; eight sisters Alida, Lupe, Maria (Jeno), Teresa, Martina, Herminia, Narcisa and Berta. He is also survived by 6 Grandchildren.





---




Maria Trinidad Valdovines

- May 28, 2012 Contact this person


Querido nino, siempre te llevare en mi mente y en mi corazon, ahora que estas con mis abuelos y con mi hermana, se que se cuidaran mucho y que disfrutaran de experiencias inolvidables, asi como las que nosotros pasamos con ustedes en vida, te extrañare tanto, pero se que algun dia nos volveremos a ver y estaremos todos juntos de nuevo, como la hermosa familia que somos... Descansa en paz nino, con mucho amor tu Chatita...




---




Brittany Rodriguez

- June 1, 2012 Contact this person


Querido Padrino, siempre lo llevare en mi corazon. Nunca podre olvidar esos bellos tiempos que pasabamos en familia cuando yo era solo una pequeña...seran inolvidables. Tal vez lo que duele mas que decirle adios es no haber tenido la ocasion de haberme despedido de usted pero quiero que sepa que siempre estara en mis oraciones.Yo le pido a Dios que lo cuide y que lo haga sentir feliz ajustandose a su nueva vida en el cielo. Lo Extrañare Mucho!! Que Descanse En Paz Nino! Con mucho cariño, su aijada.




---