In Memoriam : Aurora Aguilar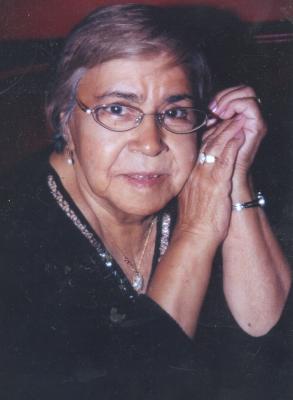 Aurora Aguilar - age: 82
(July 11, 1929 to June 08, 2012 )
Resident of Exeter, California

Visitation Information:
Visitation will be held on Wednesday, June 13, 2012 from 2:00 to 6:00 PM at Evans Miller Guinn Exeter Chapel. Funeral Services will be held on Thursday, June 14, 2012 at 10:00 AM at the Chapel. Burial will follow at the Exeter District Cemetery.

Obituary:
Our Mother, Grandmother, Buela, Tia went home to be with her Lord June 8, 2012. She leaves behind 4 children, Joe (Nancy) Aguilar, Fernando (Laura) Aguilar, Susana (George) Rocha and Cecilia Aguilar. She had 8 Grandchildren, Joe (Kassie) Aguilar, Richard (Shawna) Aguilar, Luke, Anna and Marissa Aguilar, Isaac and Jacob Rocha, Christopher Farrands. She also leaves 6 Great Grandchildren, Natalie, Neveah, Josyah, Karly, Michael and Julia Aguilar. Aurora is also survived by one sister, Alicia Reynaga of Guadalajara Mexico and numerous nieces and nephews.
Some of her many things she loved was camping with he Grandkids and Great Grandkids, going to Las Vegas, celebrating birthdays, sewing, cooking for family and watching her Novellas. She always made sure her dinner was done in time to sit and watch all of her Novellas. She loved visits from her children, grandchildren and great grandchildren. She loved collecting angels, Betty Boop, jewelry and scary movies.
She will be missed by all until we are with her again.





---




Mark & Kathy Isam

- June 14, 2012 Contact this person


Deepest sympathies and greatest condolences to the Aguilar Family. Rest in peace Grandma Aguilar...




---