In Memoriam : Hope Barr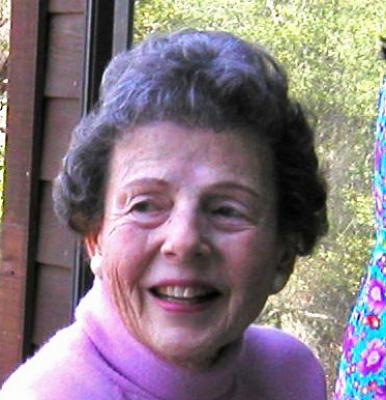 Hope K. Barr - age: 98
(October 12, 1913 to August 03, 2012 )
Resident of Three Rivers, California

Visitation Information:
A private Memorial will be held at a later date.

Obituary:
Hope Kime Barr
October 12, 1913 - August 3, 2012
Hope Barr, beloved wife of Frank T. Barr and beloved mother of Mike and Dave Barr and Jill Thorne passed from this earth early on August 3rd. She was 98 years old.
She was born on October 12, 1913 in Indianapolis, Indiana. Her early years took her to Hartford, CT where her father was an actuary with the Travelers Insurance Co. Her father's untimely death during the 1918 flu pandemic sent her with her mother, Betty, to Illinois to be with family. She and her mother settled in Oak Park, IL where Hope attended High School. An excellent student, she graduated at age 16 and went on to Rockford College where she graduated in 1933. She met her future husband at a Chicago University Chapel young adult group in 1935. There were married in 1936.
Frank took a job with Standard Oil New Jersey. Their first home was in Baton Rouge, LA. Hope remembers with fondness and some discomfort the incredibly hot summers! In 1938 they moved to Summit, NJ where they remained for 31 years. Hope was active in the First Baptist Church and numerous book clubs, bridge groups and several service organizations. Her three children were born and raised in Summit. She was a wonderful and loving mother teaching her children to act and think ethically and morally, to excel in school and social activities and to be kind and respectful to all people. These lessons were never forgotten.
In 1969 Hope and Frank, now with their children grown and gone and starting their own families, moved to Bellevue, WA. They continued to be active in church and civil affairs until Frank retired from then-EXXON and they moved to San Diego, CA. After several years there, they moved to Three Rivers, CA to be near their only daughter. Here Hope and Frank spent the rest of their lives. Frank passed away in 1990. Hope continued to be active in church and various intellectual pursuits. Hope remained very dynamic and lively until the last few years of her life when age started to slow her down. Her intellect continued to be incredible; her memory of her life, knowledge of historical events and her scholarship were encyclopedic and never ceased to amaze.
Hope is survived by her three children and their spouses, eleven grandchildren and ten great-grandchildren. She was loved and she will be missed. She will forever live in our hearts.