In Memoriam : Audie Barbee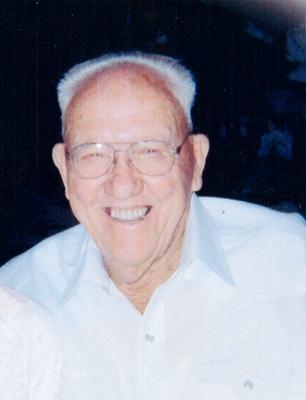 Audie - Barbee - age: 91
(April 18, 1918 to July 06, 2009 )
Resident of Exeter, California

Visitation Information:
Visitation was held on July 12, 2009 at Evans Miller Guinn Exeter Chapel

Obituary:
Audie was born in Stigler, Oklahoma on April 18, 1918 to Andy and Annie (Crosby) Barbee, and went into the arms of his Lord on July 6, 2009 in Visalia, California.

Audie was employed by Shannon Brothers as a Land Leveler for 40 years. Audie was a devoted Christian. He attended Cameron Creek Church for 50 years, and put his skills as a woodworker to use by helping to build the new church. He was a very generous man who enjoyed his hobby as a woodworker, making items for family and friends; he also took pride in his garden which he loved to share with all. Audie was preceded in death by his daughter, Shirley Ennek, his parents, 2 brothers, and 2 sisters.

Audie is survived by his wife of 40 years Lela Barbee of Exeter, his two children, Pete Barbee of Medford OR and Daughter Billie Jo Cambis and her husband George of Mojave Valley AZ; Stepchildren Carl Hardin and wife Maxine of Hollister, CA, Vi "Wendy" Meinhold and husband William of Prescott AZ, Del Hardin of Visalia CA. He is also survived by 12 Grandchildren and 19 Great Grandchildren and his beloved Tiny.
Visitation will be held on Sunday, July 12, 2009 from 2:00 to 6:00 PM at Evans Miller Guinn Exeter Chapel, Funeral Services will be held on Monday, July 13, 2009 at 11:00 AM at the Cameron Creek Church, 29076 Road 164 in Farmersville. Burial will be in the Exeter Public Cemetery District. Condolences may be sent to the family at emchapel@aol.com. Arrangements have been entrusted to Evans Miller Guinn Exeter Chapel.