In Memoriam : Joan Badiali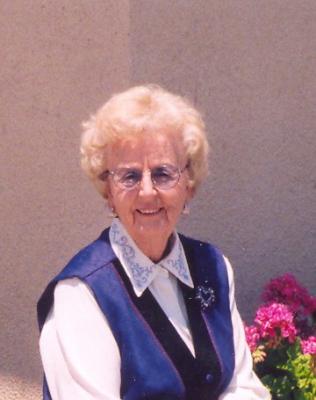 Joan Badiali - age: 86
(February 10, 1927 to August 23, 2013 )
Resident of Exeter, California

Visitation Information:
There will be a gathering of family and friends on Saturday, September 21, 2013 from 2-4 p.m. at the Badiali residence. Our family would like to thank everyone for their love and friendship.

Obituary:
Joan Badiali was one of six children born to Jack and Jessie Durrant on February 10, 1927 in San Diego, California and passed away August 23, 2013 at the age of 86. She was preceded in death by her husband Robert in 2005, and her brother Robert Durrant. Survivors include brothers Ivan (Karen) Durrant of Exeter, John (Louie) Durrant of San Diego, sisters Doris Ferree of Santee and Jess (Bill) DeVito of San Diego and her daughters Lynne (Balaam) Batchelder of Modesto, Janet (Badiali) Bailey of Three Rivers, and Joan (Badiali) Vehrs of Visalia....5 grandchildren, 3 great-grandchildren, numerous nieces and nephews and her companion of many years, Bill Herman of Three Rivers, CA.


Joan worked nearly five decades in banking while helping Robert operate the "Badiali Firewood" business for over 25 years. She was treasurer for the Exeter division of the Salvation Army for 44 years, and volunteered for various charities for many years. She traveled the world and enjoyed life to the fullest. She enjoyed cooking and going to casinos.





---




Tommy Hardiman

- August 30, 2013 Contact this person


So sorry to hear of Joan's passing. She was just simply delightful in every way! Her smile, humor and wit made those boring trips to the bank enjoyable for so many years. She will be missed by all! We will keep her family in our thoughts and prayers. I am sure Robert is very happy to have Joan again by his side. Tommy & Jane Hardiman, Saint George, Utah




---




Lynne Batchelder

- September 4, 2013 Contact this person


Staying at the house makes me feel like you are on one of your cruises and just not home yet. I know that you and Robert are getting caught up. I miss you terribly and love you very much, which I never said enough. You were a wonderful mother and even better great grandmother to Macie Lynne .




---




Lilla June Bauman

- September 18, 2013 Contact this person


Dear Everyone, Just a little over three months ago we had our potluck. We had such an enjoyable get together and we all were so glad to see Joan with us. I can still picture sitting between Joan and Norma. I'll always remember how helpful Joan was to my mother, Carol Dula, when she went to the bank in Exeter. She was very good and thoughtful at her job. I so wish I could be there. All my thoughts are with you all. Love, Lilla June Dula Bauman




---