In Memoriam : Jose Almanza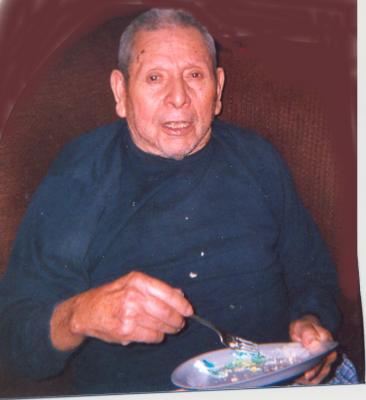 Jose Inez Almanza - age: 82
(August 25, 1931 to December 20, 2013 )
Resident of Exeter, California

Visitation Information:
Visitation will be held on Thursday, December 26, 2013 from 2:00 to 6:00 PM at Evans Miller Guinn Chapel followed by the Rosary at 6:00 PM in the Chapel. Mass will be said on Friday, December 27, 2013 at 9:00 AM at Sacred Heart Catholic Church, Exeter. Burial will be in the Exeter District Cemetery.

Obituary:
Jose Inez Almanza, age 82, passed away on December 20, 2013 in Visalia, CA surrounded by all of his loved ones. He was born in Mexico and came to Exeter, CA in 1970 with his family and made their home. He was a hard working man who always had a smile on his face for everyone. Jose was preceded in death by Alma and Jesus, who await his arrival in Heaven. He is survived by his wife Enriqueta Almanza of 60 years of marriage; loving daughters San Juanita, Maria, Yolanda, Laura; his sons Julian, Jose Jr. and Antonio. Jose had numerous grandchildren as well as great grandchildren. What gives us peace is he is no longer in pain and is in the arms of the LORD. He will be deeply missed and never forgotten. There will always be a place in our hearts for the Husband, Dad and Grandpa he was. We will love you forever.