In Memoriam : Dionicio Alafa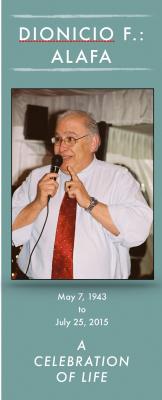 Dionicio Alafa - age: 72
(May 07, 1943 to July 25, 2015 )
Resident of Manassas, Virginia

Visitation Information:
A celebration of Dionicio life on Friday, September 11, 2015 at 12:30 pm at Evans Miller Guinn Exeter Chapel. Burial will follow at the Exeter District Cemetery.

Obituary:
On May 7th, 1943, in the small Texas town of Lyford, a mischievous bundle of joy arrived to
brighten the lives of all he met. Dionicio was born 9th out of eleven children to Dionico Alafa Sr.
and Filomena Alafa. His good nature, warm hearted personality and tall tales endeared him to
many friends and family. To this day they all affectionately remember little Jr., that prankster
Nicho and the distinguished gentleman named Don.
Dionicio's life was a meandering and winding path that may have started in Lyford but he soon
found his way to Elsa, Texas. From here he moved on to Leipsic, Ohio where he graduated from
Leipsic High School. His charming smile, big heart and bigger stories won him many friends.
His skills in basketball and track are still remembered. Not long after, Dionicio would meet and
marry Angelita Guitron. Together they would bring into the world three sons; Don Jr., Michael
and Abel. Three wondrous boys that would fill Dionicio's heart with pride and love. It was a love
that only widened upon the passing of Michael and deepened upon the passing of Abel.
Through the years Dionicio would have several jobs and wear many hats. But no matter where
he went, what job he had, it would always in one way or another involve helping others. Whether
it was as a officer of the law in Farmersville, CA and in Leipsic, OH or proudly severing as a
councilman in Farmersville. Dionicio felt driven to speak up for and help those in need. To fight
for what is just and to defend the rights of others. One of Dionicio's proudest moments in his life
was working and standing together with Cesar Chavez in La Raza Farm Workers movement.
Towards the end of his career he became active in local Virginia issues and was highly sought
after by immigrants and newly arrived citizens for help in traversing the complex immigration
and naturalization process.
The last decades of Dionicio's life would bring him great joy as he was reunited with his first
true love, his high school sweetheart Flora Fuentes. Together they traveled, laughed, loved and
grew old together. To his last breath Flora was with her Donny and he loved her till the end.
On July 25, 2015 Dionicio lost his fight with lung cancer.
He is survived by his love Flora Fuentes, his son Don Jr from Visalia CA, Lupe and Alicia Alafa
(brother and wife) from Holgate Ohio, Hector (brother) from Lima Ohio. Alvesa Hernandez
(sister) from Toledo Ohio, Cristela Hinojosa (sister) from Leipsic Ohio, Emma and George
Kindal (sister and husband) from Gautier MS, Maricela and John Tobias (sister and husband)
from Farmersville, CA. His grandchildren: Alex, Michael, Ashley and Joseph.
He is preceded in death by his brothers Francisco, Baldemar, Jose (Chore) and his sister
Maria Alvarado.