In Memoriam : Earl Ayers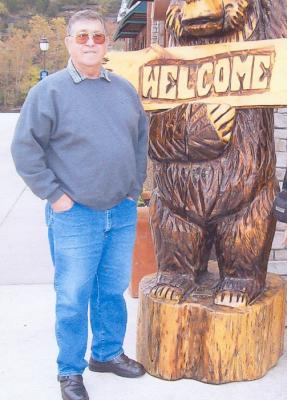 Earl Chester Ayers - age: 73
(August 08, 1936 to January 18, 2010 )
Resident of Visalia, California

Visitation Information:
No services at his request will be held but a viewing on Saturday, Jan. 23, from 12 pm to 3 pm to say good bye, at Evans Miller Guinn Exeter Chapel in Exeter. Condolences may be sent to the family at www.evansmillerguinnchapel.com. Services entrusted to Evans Miller Guinn Exeter Chapel.

Obituary:
You can say farewell to Earl C. Ayers 73, who passed away on Jan. 18, 2010 following a vehicle accident three days earlier. He was on his way home from doing what he loved and had done most of his life, hunting with his hound dogs. He was born on Aug. 8, 1936 in Hot Springs, Ark. He came to Calif. As a young child and remained in this area.

He is survived by his wife; Estell Minugh-Ayers, one daughter, Cheryl A. Sutter and husband Mike of Oklahoma, one grandson, Michael Sutter of Oklahoma, two stepsons, Shawn Minugh and wife Katrina of Oregon, Shane Minugh and wife DeAnn of Visalia, Six step-Granddaughters and one step great-granddaughter. He also leaves one brother Kenneth Ayers of Visalia, two sisters, Thelma Moore and husband Roy, and Pearl Wood both of Oakhurst, numerous nieces, nephews, extended family and many beloved friends. He will be missed.





---




Uilani Keopuhiwa

- January 21, 2010 Contact this person


I would like to leave my condolence for my grandfather. He was married to my grandmother Shirley Ayers until she passed away. He was my step-grandfather, but he was the only one that I knew and I loved him dearly. I only meet him a handful of times, but spending a whole week with him and talking to him about my kids was wonderful. I use to scold him about taking his medicine. I wish I kept in touch with him when my grandmother passed away. I will truly miss him and wish my children could have met him.




---




Michael Sutter

- January 24, 2010 Contact this person


Earl Ayers was a wonderful grandfather. I couldn't have asked for a better one! He taught me a lot in my life and ill never forget him. Weather it was working on the ranch, driving cross country, or running the dogs in the mountains we always had a great time together. He was always joking and smiling and always there to talk to if i needed advice. Wish there was more time for us grandpa! Ill always love and miss you!!




---






Click to Enlarge